Ceremonies
Weddings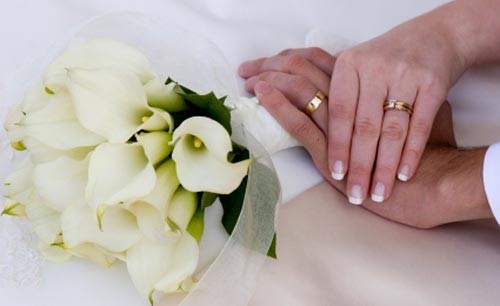 St Mary's is a beautiful ancient church and a popular venue for weddings.
Initial enquiries should be made well in advance either by coming to the church for the 10am Sunday service or by contacting the Vicar.
A Service of Blessing following a civil wedding or on the occasion of a wedding anniversary or other special event can be arranged.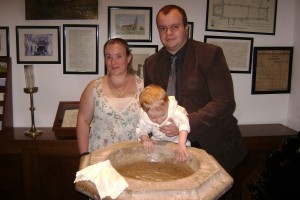 Christenings

Baptism or christening is a joyful event when a baby, young person or adult is received as a member of the world-wide Church.
The service is arranged on request and the person to be baptised and also the family are encouraged to visit the church beforehand, perhaps at one of the Sunday services, such as the all age service at 10 am on the fourth Sunday of the month.
The Vicar likes to meet you and your family to explain what is involved and arrange the date and time of the service. There is no charge for a baptism however an offering is commonly made after the service.
It is usual for baptism to take place in the church of the parish where the child lives or at the church where the parents regularly attend. If you are not sure whether you live in St Mary's parish, you can check by using the Church of England website (churchofengland.org), entering your postcode under "find your local church".
If you do not live in the parish, but are intending to build a relationship with our church community, or have a particular long-standing relationship with St. Mary's, and would like to bring your child to us for baptism, please do ring Janet Jones on 01322 521229 for advice.
We are also pleased to support older children and adults who are thinking about baptism – it's never too late!
When a baby is born parents often want to thank God for their new addition to the family. A service of thanksgiving offers this opportunity and can form part of a Sunday service. This is not a baptism so there is no need to choose godparents and no need to make public promises to God which you may feel you are not ready to make. Church of England information on the christening and thanksgiving service.
Communion before Confirmation for older children
If your children have reached years 5 or 6 in their primary education and would like to receive communion (the bread and wine) they can be prepared for that by the Vicar.
Confirmation

Confirmation completes your process of initiation as a full member of the Church.
When you are confirmed you receive the Holy Spirit as God's seal on your spiritual journey through life. The special gifts received enable you to live out your life as a Christian.

Confirmation takes place at a public service with the Bishop who will invite you to renew your baptism promises and will pray for the gift of the Holy Spirit to come upon you.
If you would like to be confirmed or are thinking about it and would like further information please contact Mary Andrews, Churchwarden on 01322 523071.
Funerals
Please contact the Vicar, who will arrange a time with you and your family to plan a funeral service. Advice can be given about what to do, in what is often a sad and painful time for you, family and friends. We will try to meet your wishes which may include a church service.
St Mary's holds an annual memorial service at which your loved one will be remembered. There is also a Remembrance Book that is always open in the church to which names can be added on payment of a fee.